Welome to Birdie!
Your agency has just joined Birdie so here's a quick guide to what we do, to help you get to know us.
Birdie is a complete system for delivering care. You'll be using the Birdie App – so you can log care visits right from your phone. With everything from eMAR to assessments plus visit logs and tasks, you'll never need to hand-write a communication or MAR sheet again. Which means you can spend more time on what matters – spending quality time with the people you care for.
Using Birdie

We've made Birdie as simple to use as possible. At every visit, you'll have an instant overview of everything you need to do on a visit – from tasks like assisting with washing and dressing to which medications need to be administered and when.
Here's a quick snapshot of what you can do…

Raise an alert (when you notice things like worrying symptoms or behaviours) and let your Care Manager know right away

Record medications and let your Care Manager know whether they've been fully, partially or not taken (plus add reasons)

Complete tasks and add detailed notes and observations

Use your phone's microphone to record quick voice notes

Prepare for your calls by viewing your client's complete care plan and previous visits beforehand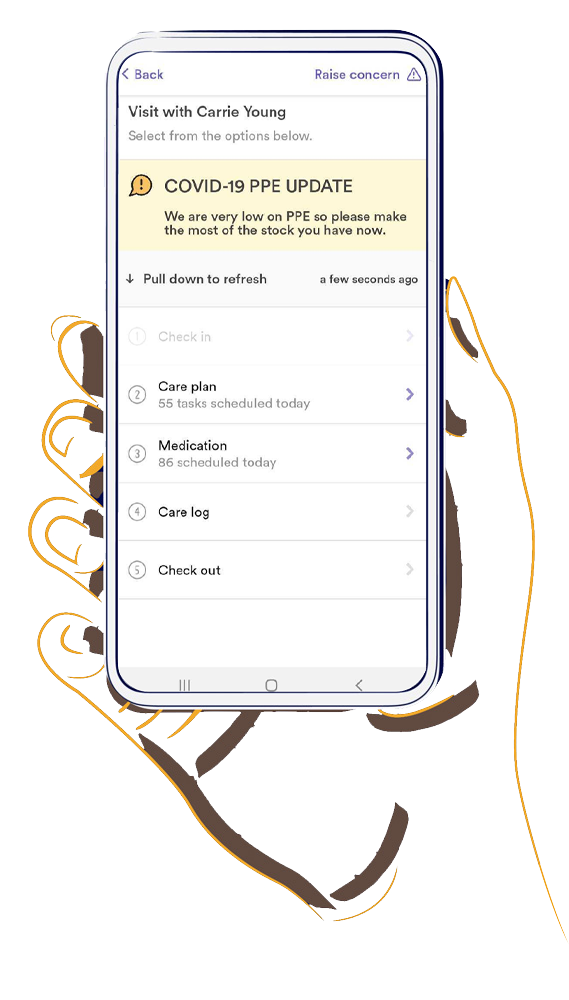 Frequently Asked Questions
Does Birdie provide a phone?
No. As most care staff already have their own smartphones, we provide an app (for Android and iOS) that you can download to your existing device.
How much mobile data does Birdie use?
Birdie uses very little mobile data, and in fact, can even be used offline. Birdie uses about 0.6MB of data per report. That's about the same amount of data as sending a photo through WhatsApp.
How much space will Birdie take up on my phone?
The Birdie App uses hardly any space at all, just 20MB in fact. That's equal to about five or six photos.
What if I lose my phone or it gets stolen?
The Birdie app can only be accessed with a passcode, that you'll set yourself. If your phone gets lost or stolen, your Care Manager can update and remove your permissions, so that no data can be accessed until you get a new phone.
Can I use Birdie without the internet?
Our app is built "offline-first", meaning that almost all features are available when you're offline or have low-signal. Once your phone is ba k online, any data that hasn't been saved to the system yet will be sent to the B rdie platform. If an alert was generated (for example, a notification that the visit asn't started yet), it'll automatically resolve once the information has been se t over.
Let us walk you through using Birdie with our easy-to-follow training video